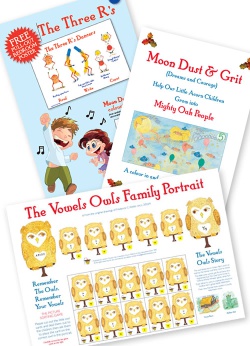 Lockdown Special Offer!

The 'Lockdown Special Offer' comprises of the following activities:
The Three R's Song & Dance Booklet with free A3 Poster!
Moon Dust & Grit A4 Colouring Book
The Vowels Owls Sorting Game A3 Poster

If you were to buy these items individually they would cost £8.85 so this offer represents a significant saving!
The illustrations will create images in youngsters minds that help them see how learning is the way to a richer understanding of life... with a little help from their guardians of course!
These three items are the basis of learning, and like a snowball rolling downhill, their minds will gather more and more values and a sense of growing. Whereas the snowball stops in the valley, our children will always continue, and the momentum of these three simple stories and games, will carry them up and over the hills, opening up that greater vista which we know as a human life.
This is a part of my cherished dream, to help our precious little Acorn Children, grow into mighty Oak People.