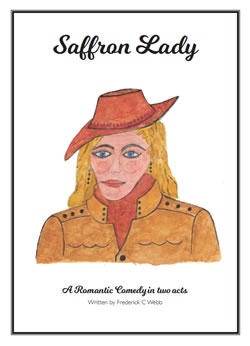 Saffron Lady Production Script
Saffron Lady - a very wealthy 'just over sixty' divorcee has her portrait painted. It is a gift from her three children, in celebration of her final settlement.
She was one of those mature ladies who love life and have the special qualities of intelligence flavoured with mischief and laced with wit; qualities her ex husband failed to notice.
Her portrait artist, a much travelled English adventurer, made his fortune in the east. He set up his studio in Marrakesh. This man loved women and painted many nude maidens.
One day he painted a most beautiful girl, in Goya's 'La Maja' pose. Unfortunately, she was a guest of the Kings daughter and the King expelled him from Morocco, leaving him virtually penniless.
Within seconds of meeting Saffron Lady, he knew he had met the love of his life. In the play, she asks if she "still has beauty" and he scribbles the poem, "What is beauty, who can define, a quality, that is sublime" and hands it to her. Her children are very aware this love interest could affect their inheritance.
She is extremely punctual and Truffle tells Oliver her butler, "If every woman was a punctual as your mistress, it would cut the divorce rate in half".
Saffron Lady is a romantic Comedy in two acts, set in the 1960/70's suitable for Theatre, Film, TV and Radio. As seen in the amateur dramatics magazine Sardines!
Please Note: This is a Production Script in A4 Book Format - should you wish to use this script in a theatrical performance, their will be additional fees as follows:
Fees for Amateur Productions: £75.00 per performance paid in advance.

Fees for Professional Productions: £75.00 per performance paid in advance + 7.5% of ticket sales.
Please contact me for more information and to obtain a Production Agreement Contract.

Only £9.95
FREE P&P IN THE UK!