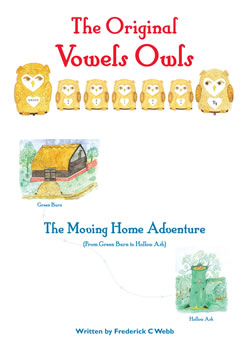 The Original Vowels Owls - Moving Home Adventure
This is the first story in the 'Grow with Grit' series and ideal for children with moving home anxiety while also helping them to learn their vowels and social skills with fun characters.
The story is about five Owl chicks who are not quite ready to fly, but the sale of their home, the Green Barn forces them to move to a new roost in Hollow Ash. Their moving adventure is helped along by a fox and a bee as well as some termites, some rooks and some mice!
This fun-filled story of friendly characters is one that both children and parents will enjoy reading together while helping children to not only learn their vowels, but also to take on social skills and help reduce anxieties with ongoing discussion.
Inside this large colour A4 Book is the Vowels Owls Poster and along with the Book you will receive a copy of the Vowels Sorting Game too! These excellent learning tools combine to help children of all nationalities to learn the English language even before they attend their first school.
The 'Grow with Grit' stories encourage children to think, to read, to talk and to imagine... helping their minds to grow!
Colour illustrated in A4 - Your copy can be signed or inscribed on request!
Only £7.95
FREE P&P IN THE UK!