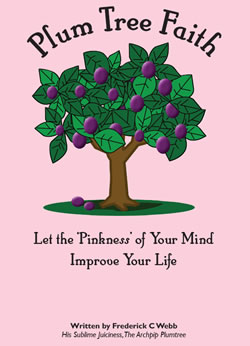 Plum Tree Faith
This little book is the chance for non-religions people to take a look at what might be.
It ventures the notion that our Maker intended human beings to live a happy life on earth. It invites the reader to think, and meditate by talking with 'The Pinkness', in particular, getting rid of 'clutter'.
Perhaps readers might consider pruning some dead twigs: but all men must be careful.
Now includes a copy of Archpip Plumtree's infamous letter to the Archbishop Of Canterbury, Justin Welby where he opens with the line: "Have you got God's sales message wrong?". If that wasn't eye opening enough, Archpip Plumtree continues with: "Perhaps Jesus was sent down to teach us how to live, not how to die? And perhaps God, who gave us our brains, might wonder why we are so daft as to believe the cover up for his Son's murder?"
This is an extraordinary piece or religious ephemera which frankly is worth the cost in it's own right!
WITH FREE UK P&P & LETTER!
Only £7.95
FREE P&P IN THE UK!