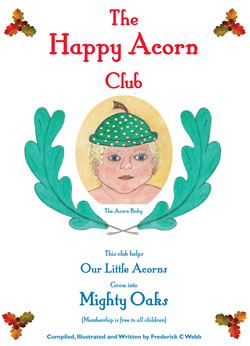 Happy Acorn Club
This is a collection of stories, poems, games, cut out masks, cartoons, ideas, songs and dances... an entire bumper book all about the fun of growing up, that will engage the imagination of both child and parent.
This colour illustrated big A4 book is full of rainbow coloured imagination, inventiveness and surprises and covers every aspect of life, art, music, comedy, wildlife and even a bit of space travel! It introduces the ability to talk with any living creature.
There are learning tools disguised as a dance, a song or a game including the Vowels Owls sorting game the three R's song and star jump dance the Education and Learning Key, plus the Bright Spark equation - acorn children have the X factor!
A story about the Dowager Lady Rook, who gives away her lunch to a tearful little girl. 'Stanley is Manly - a little boy whose stutter is cured. The 'Dial a Bubble' taxi service. Children will love the Brussels Sprouts Tossing game, an annual pre-Christmas warm up, held on the 'Glorious Tenth' of October, known as 'St Brussels Day'. Not forgetting Moody Rooby, the teenage witch who hurtles across the sky on her 'Va Va Voom Vacuum', cryng Turbulence - TURBULENCE!!!

Colour illustrated in A4 - Your copy can be signed or inscribed on request!
Only £7.95
FREE P&P IN THE UK!